Schaeffler Technology Center – STC
Most people know Schaeffler as a producer of bearings, systems and other components for the automotive and industrial sectors. But to give customers the best support, and to make their machines run as smooth and as long as possible, Schaeffler is also providing technical calculations and specific guidance at critical installations. The technical calculations are made in specific programs that help to evaluate and adapt bearing solutions according to customer specific requirements.
Schaeffler Technology Center, STC, is the team behind this work and thus a very important department in our organization with its ability to provide professional service and support to our customers.
What is STC doing? And who are the persons in the team?
The STC team works with the R&D teams on the customer's side and they do everything from general to more advanced calculations that support how our products are assembled into the machines. They support our Customer Center team with general technical matters, while more advanced support is conducted directly with the customer.
The Nordic team consists of five dedicated and skilled technical engineers. It includes Tuomo and Pekka in Finland, Dan and Jonny in Sweden and Steinar in Norway. Soon an engineer in Denmark will join the team. All of them have broad competences, but some of them are a little bit more focused in specific sectors.
Locally, STC provides support through different levels of technical calculations. For very specific cases, the R&D team in Schaeffler's central headquarters can be consulted.
"As an example, a calculation can be to understand and ensure the life cycle of an application including the bearing", continues Dan. "But it can also be about shaft deflection and internal load distribution in the bearings. Via our internally developed software, a single bearing or a system can be analyzed. Lubrication conditions, temperature distribution, operating clearance, preloads, press fit and raceway imperfections are all parameters that can be analyzed and influence the characteristics of the system. Optimization is also very important, so that we can find the optimal solution for the given conditions."
"Steinar, for instance, knows oil and gas very well, while Pekka has deep knowledge of railway and raw material, Tuomo of power transmission and simulations via a program called BearinX, and Jonny is our expert on linear products", explains Dan.
The STC engineers mainly support their own respective local market. For them it is important to understand and support locally and to speak the local language, so the customers can feel the local presence, but they also support across borders if needed.
To continuously keep their knowledge and skills up to date, they meet both regularly, also with their German colleagues, to learn even more about products, underlying theories, and manufacturing. This is very important as the team also conducts seminars and trainings with Sales, Customer Center and customers.
What is a normal workday like?
Steinar Breines from Norway explains that a workday normally consists of answering requests both internally from Sales and from Customer Center but also directly from customers.
"We work a lot with calculations, such as life span, fit calculations and static security which includes how much load the bearing can handle without getting damaged", says Steinar. "We also recently got an interesting request from a national power industry company that wanted us to deliver two large bearings to an offshore vessel that will lay pipes on the sea bed in order to transport gas from Norway to Germany. They contacted us as they needed bearings for a horizontal pipe reel. By giving us the correct conditions and required dimension we managed to design suitable bearings that can handle these specific conditions. We delivered two large spherical roller bearings that were fitted into housings with good sealing arrangements. These bearings have coatings in order to prevent corrosions and damages caused by vibrations and micro-movements in the bearings during transit", concludes Steinar.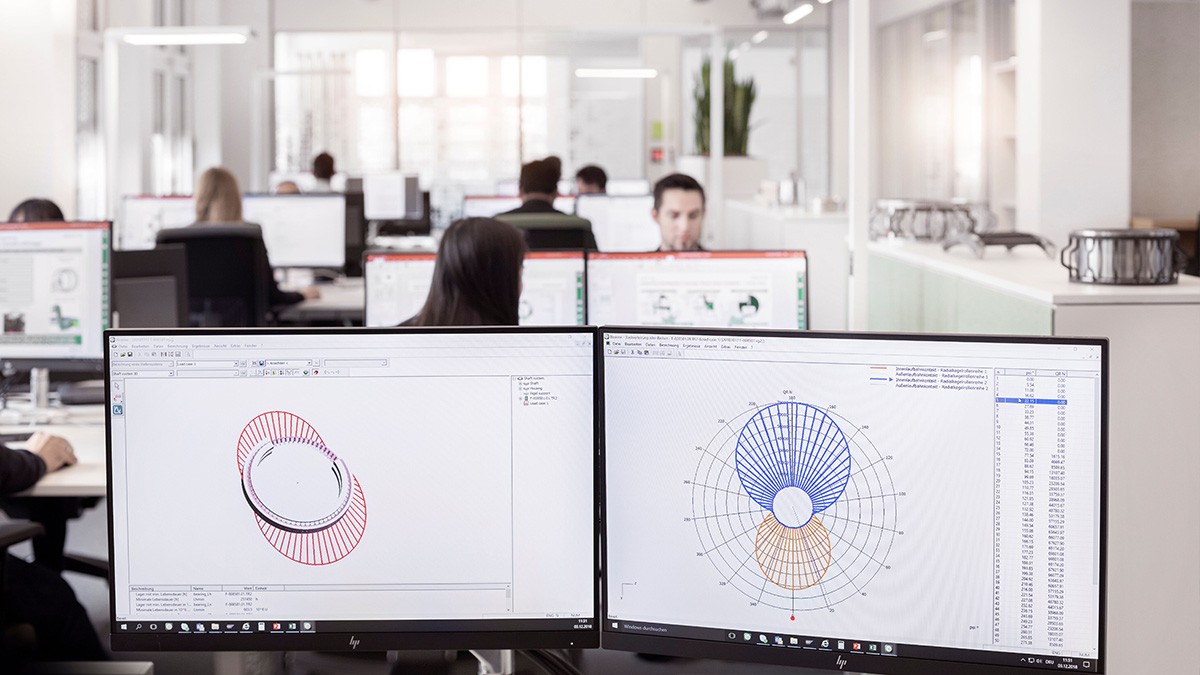 Dan Wedberg, manager of the team, summarizes: "It is very inspiring to lead a team consisting of skilled and supportive engineers that are there to help whenever needed. Their skills are essential to ensure great service to our important customers. We want to be the preferred business partner and help them to run their daily operations as efficiently and smoothly as possible. This is key for us."
Share Page